Commercial Roofing Daytona Beach, FL – We are a reliable commercial roofing contractor in Daytona Beach, Florida and you'll receive the latest roofing services so your business stays open.
You'll receive exceptional roofing services when it comes to the installation of new roofs, roof replacement, roof repair, and roof maintenance.
Since not all roofing companies are created equal, you will benefit from the latest roofing innovation and state of the art materials and equipment. Our goal is to provide you with high-quality roofing services to ensure your business stays protected.
While commercial roofing technology changes with different technological advancements, you will have more options in choosing the best material for your business. We'll guide you and help you so you'll have an informed decision in choosing the right roofing material.
We take pride in serving the entire Daytona Beach area and we provide exceptional roofing craftsmanship.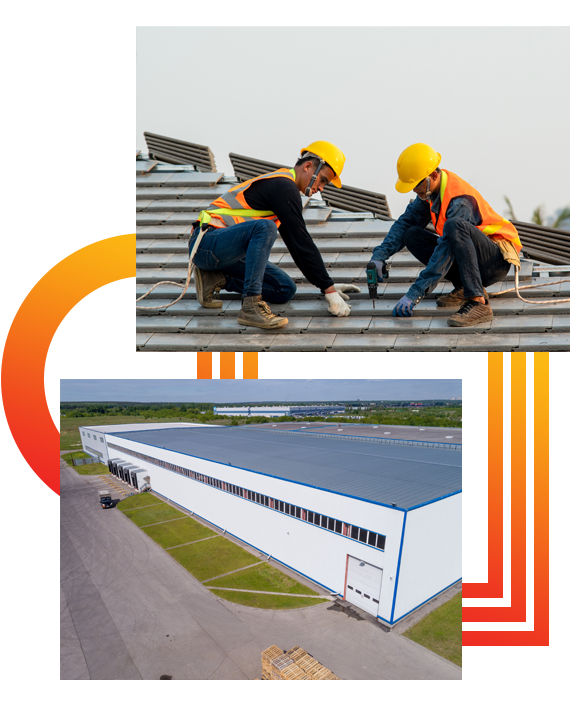 You'll be assured that you'll receive the best products from the best brands in the market. Installing the right roofing materials is the key to a successful commercial roofing project.
Over the years, we have been providing the best commercial roofing services in Daytona Beach and we ensure that your business is not interrupted while we work on your roof.
No matter what roofing services you need and no matter if you have a small or large business, we'll guarantee you'll receive top-quality commercial roofing workmanship.
Commercial Roofing Daytona Beach, FL
There is no doubt that the roof of your building protects your employees, tenants, and your assets from outside elements. Choosing the right roofing material is essential to ensure a durable and long-lasting roofing system.
Whether you have an existing building or a new building, the purpose of your business will help define the right roofing material.
For instance, if you would like to use your building for storing different types of chemicals, then an EPDM or PVC roofing material can be used since they can withstand prolonged chemical exposure.
Local building codes can also affect the type of roofing that can be installed for your commercial building. This is the reason why you'll need to consider the location of your business.
Additionally, building expansion is another consideration you'll need to plan carefully. Your roof should expand with your building. This is more feasible and prevents the risk of changing the entire roof of your commercial building just to expand your building.
TYPES OF COMMERCIAL ROOFING MATERIALS
Choosing the right commercial roofing materials depends on the type of roof that you have and it depends on your preference. We're experts in helping you decide the best roofing material for your business.
Single-Ply Roofing Membrane
There are three types of single-ply roofing membrane and this includes Thermoplastic Polyolefin (TPO), Ethylene Propylene Diene Terpolymer (EPDM), and Polyvinyl Chloride (PVC). These materials differ when it comes to installation, chemical composition as well as energy-efficiency.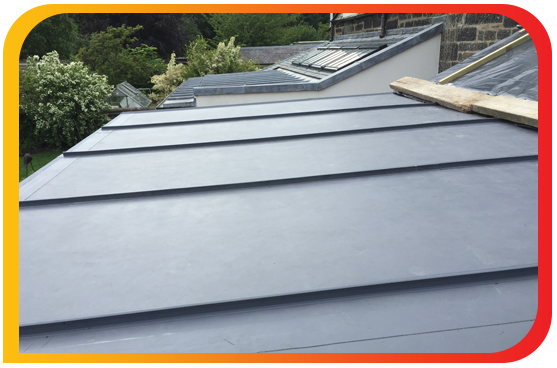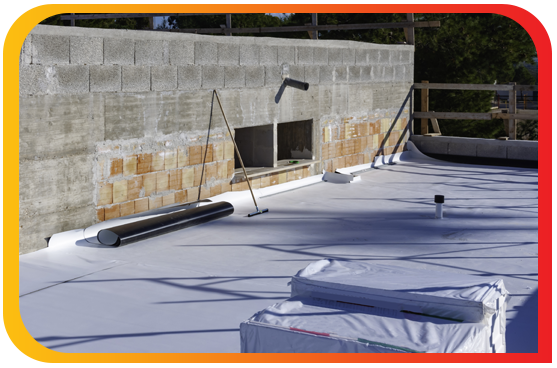 TPO (Thermoplastic Polyolefin)
TPO is one of the most popular and fastest-growing, single-ply commercial roofing membranes that is used for different types of commercial buildings. However, they're most commonly used in buildings with flat roofs.
This material is flexible and versatile and is made up of a single layer of synthetics and reinforced scrim. Additionally, the lifespan of TPO can last for 20 up to 30 years if maintained properly.
Many business owners choose TPO material since they're cost-effective and at the same time energy-efficient. Not only does it protect your building from harmful UV rays, but it can also withstand strong winds, hurricanes, and tropical storms.
TPO membrane is fire-resistant, puncture-resistant, and abrasion-resistant and this makes it an excellent roofing choice for your business. There are different methods of installing TPO and it can be mechanically-attached, ballasted, or fully-adhered.
During installation, the seams are heat-welded for waterproofing purposes. TPO membrane is also resistant to chemical exposure, dirt accumulation, and mold or algae buildup.
EPDM (Ethylene Propylene Diene Terpolymer)
EPDM is made from propylene and ethylene and is commonly used in commercial roofs that have low slopes. They're also available in traditional colors such as black and white. These types of colors help reflect heat and sunlight and they're energy-efficient.
Similar to TPO installation, EPDM can be fully-adhered, mechanically-attached, and ballasted. EPDM has a lifespan of 40 years or more if maintained properly. EPDM is a lightweight, flexible, and durable roofing material.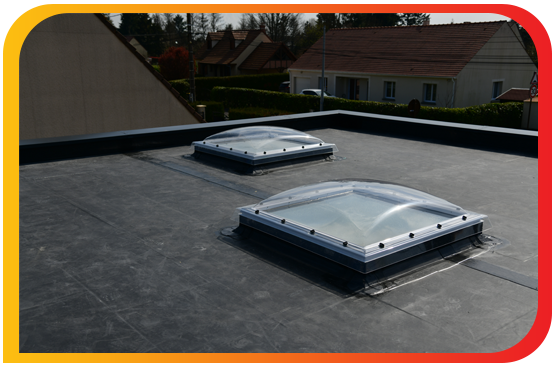 Many business owners choose EPDM material since it has excellent breathability and it allows heat and vapor to escape from the building. It's also resistant to moisture and dryness.
Installing EPDM material also improves the aesthetic appeal of your building with its smooth and clean finish. They're fire-resistant and very hard to ignite. This material is fully recyclable and environment friendly.
Similar to TPO installation, EPDM can be mechanically-fastened, fully-adhered, or ballasted. However, they're more expensive to install, but considering the advantages of EPDM material, they're still an excellent commercial roofing material.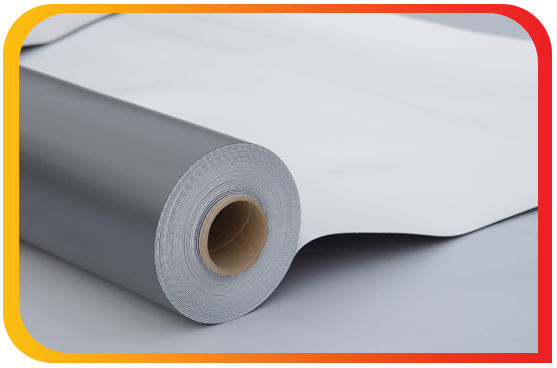 PVC is an affordable and durable commercial roofing material and is widely used by business owners. It can withstand inclement weather conditions. During installation, additives are included to make them flexible and resistant to UV exposure.
The lifespan of PVC can reach more than 20 years with proper maintenance. This is an excellent choice for a commercial roof since they're tough and durable. They're also fire-resistant and similar to EPDM, they're difficult to ignite.
PVC is also resistant to molds, moisture, and water absorption since the seams are welded during installation. Most warehouses and industrial buildings prefer PVC because they can withstand chemical exposure.
Additionally, PVC is environmentally-friendly and fully recyclable. Due to the light colors of PVC, they can reflect heat and vapor so it doesn't enter the building. They're energy-efficient and can lower down your electric bills.
BUR (Built-Up Roofs or Modified Bitumen)
Built-up roofs or modified bitumen are extremely tough and durable since they're made of fiberglass and polyester. They're resistant to tear and they don't crack or become brittle in freezing temperatures.
BUR is also an ideal roofing choice for your commercial building. They're energy-efficient and they reflect heat and sunlight which improves the energy consumption of your building. They're also watertight as well as resistant to moisture.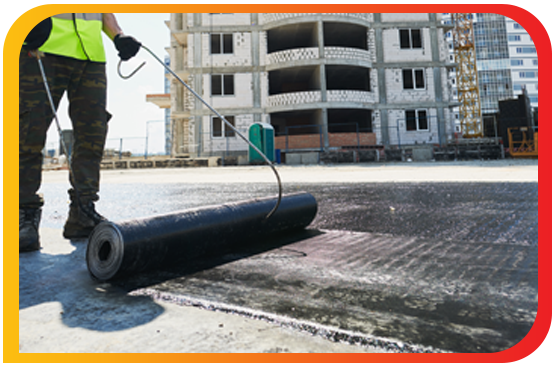 Built-up roofs or modified bitumen are resistant to impact. They can expand and contract without losing their original form.
BUR application is perfect for commercial buildings that have low slopes or flat roofs. Modified bitumen or built-up roofs are made from alternating layers of reinforced fabric and bitumen. During installation, the top layer is filled with aggregates to make them more durable.
Built-up roofing has three parts that include bitumen, ply sheets, and surfacing material. They can either be applied on the roof as hot or cold. The only drawback to bitumen is the slow installation process.
Using fiberglass or organic materials, the ply sheets are reinforced and placed over hot or cold bitumen. This will bond the roofing material to the roof. The lifespan of built-up roofs can reach 20 years or more when properly maintained.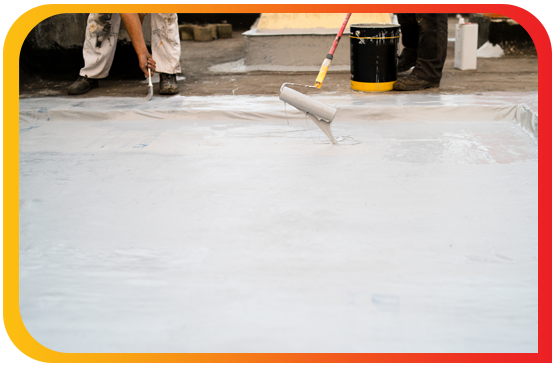 LAM (Liquid-Applied Membranes)
Liquid applied roofing membrane or LAM adds protection to your roof. This is a waterproof coating applied to different types of roofs. They're extremely flexible and can cover any roof shape, style, and design.
The application of liquid-applied membranes are fast and cover a large commercial roof. It can be applied to any existing membrane which makes them a flexible choice for additional roof protection.
The application of LAM is perfect for commercial roofs that have a complex design. They can be applied to areas where roofing sheets are difficult to install. This coating material is resistant to extreme weather conditions and extends the lifespan of your roof.
A lot of business owners prefer metal roofing due to its durability. Not only are metal roofs resistant to harsh weather conditions, but they're also resistant to fire. They're also eco-friendly and energy-efficient. They'll provide the perfect insulation for your building.
Metal roofs have a long lifespan and they can last for 50 up to 70 years, but this depends on the type of material used and how it is maintained. Additionally, metal roofs don't crack or corrode and they're resistant to impact.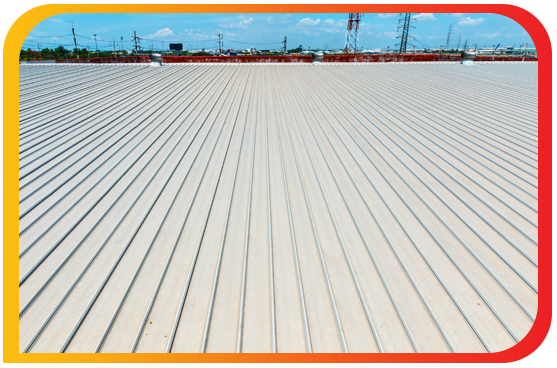 They require little to no maintenance, but just like every roofing material, metal roofs should be inspected regularly to make sure there are no damages, especially after a storm. On the other hand, metal roofs do not attract lightning. They don't ignite or spark when exposed to fire.
Metal roofing materials are eco-friendly and they're also fully recyclable. They're lightweight, easy to transport, and easy to install. They can also be coated with any color of your choice and they'll improve the curb appeal of your commercial building.
However, there are certain disadvantages to using metal roofing materials. Installing a metal roof is pricey. They can be noisy during heavy rain, but adding additional layers will solve this issue. Metal roofs can contract and expand if they're not installed properly.
Commercial properties that are located near the beach may experience salt corrosion or rust formation on their metal roofs. Despite the disadvantages to metal roofing, they're still a great choice for your commercial building simply considering the long lifespan of metal roofs.
Reliable Commercial Roofing Contractor
Whether you're considering a new commercial roofing installation, roof replacement, or roof repair, our expert roofers will provide exceptional roofing workmanship.
As a reliable roofing contractor, we'll determine your needs and guide you to make an informed decision in choosing the right commercial roofing material. Call us today for a free quote!