ROOF REPAIR DAYTONA BEACH, FL
If you're looking for fast and efficient roof repair in Daytona Beach, Florida, you've come to the right place!
Your home and business depend on your roof for protection against outside elements. You'll need to make sure they'll function as expected.
You don't need to climb to the roof to fix roofing issues. You'll need experienced and well-trained roof repair specialists. They'll be able to spot hidden damages and other roof issues which are often not seen by the untrained eye.
Your roof might be damaged due to harsh weather, or it could be old and is already showing signs of deterioration. No matter what roof repair services you may require, our team of experts will fix your roof the fast, the right way.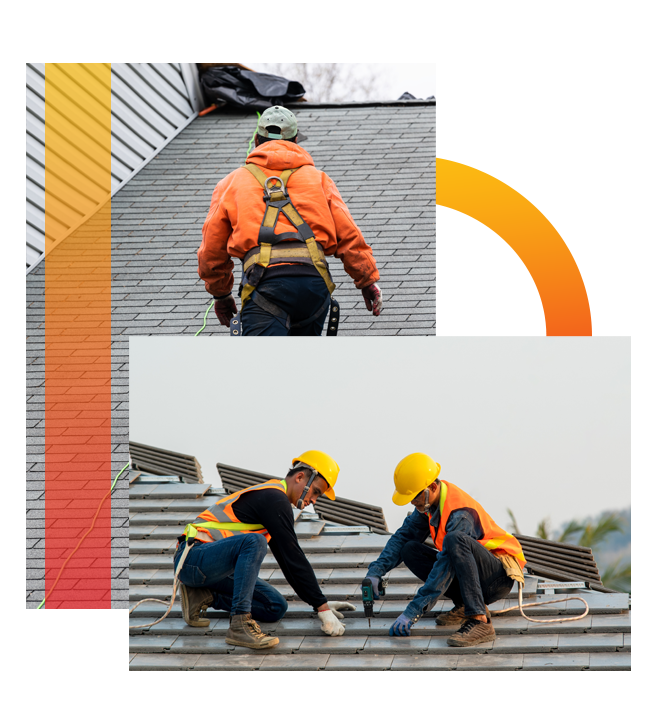 You'll have peace of mind knowing that your roof problems are being repaired by professional roofers. We're familiar with all types of roofing repairs and you'll receive a comprehensive inspection first to determine the cause of the damage.
We'll make sure that there are no underlying issues with your roofing system. We'll make sure that your roof is checked inside and out.As part of our exceptional roof repair service, we'll guide you in choosing the best roofing material that will suit your needs and fit your budget!
Roofing problems are unavoidable. We know that most people don't like dealing with different types of roofing issues. However, if you disregard a simple roofing issue, it's more likely that they'll cause bigger problems after some time.
You'll Need Experts To Repair Your Roof
A certified roof repair specialist has years of experience when it comes to fixing different types of roofs. Whether you have a residential or commercial property, you'll receive the best roofing solution to keep your property safe and protected from the elements.
Now, why is it so important to have minor roof damage fixed right away? If you delay and neglect minor roof repairs, your roof is susceptible to water leaks and will damage other structural elements in your home or building.
More roof problems mean spending more money. We want you to view your roof as an investment and not as an expense. Since your roof is the largest part of your house or building, and just like any other structure on your property, they need regular maintenance and repair. Many property owners do not pay attention to their roofs until such time damage and water leaks are already severe to ignore. 
Since your roof is always exposed to the elements, it requires regular maintenance and repair
.
Keep in mind that it is much more expensive to replace your entire roof rather than having it maintained by professional roofers
.
Roof repair extends the lifespan of your roof. A high-quality roofing material may last 15 to 25 years.
However
, if you neglect to inspect and maintain your roof, it shortens the lifespan, leading to roof replacement
.
Also, if you live in areas where there are extreme weather variations, then you'll need to schedule a regular roof inspection
.
Professional roofing contractors will be able to identify weak points on your roof and provide the necessary repairs or replacement
.
This will help you avoid expensive damage and provide repairs before things get worse
. We use a variety of ways to determine if parts of your roof are in bad shape.
We know how it feels to have a damaged roof. Since we value your roof like our own, we'll guarantee that you'll receive the best roof repair services. We keep your budget in mind and we offer affordable prices!
Call us today and schedule an appointment for a comprehensive roof inspection. We'll provide a free quote on your roof repair needs and guide you on the best solution to each roofing problem.