Roof Inspection and Maintenance
Roof Maintenance
Daytona Beach, Florida
The best way to ensure that your roof is in optimal condition is by having your roof inspected and maintained regularly by a certified roofer. Knowing that the occupants of your home or building are protected by outside elements will give you peace of mind.
To maintain the validity of roofing warranties, manufacturers also require regular roof inspections. If you encounter storm damage, you'll need comprehensive roof inspection so you can be approved of your insurance claims. 
Weathering and Aging
When it comes to multi-ply bituminous low-slope roofs, the lifespan tends to reach 20 to 30 years depending on how the roof was maintained. It is important to remember that all roofs undergo normal weathering and aging, and the effects are visible.
As roofs age, water may find its way through openings on your roof, leading to water infiltration. Roof inspection and maintenance is essential to prevent further damage.
Routine Maintenance Damage
Routine maintenance can cause further damage to your roof. For instance, if you are having an air conditioner maintained, workers will walk on your roof. If your roof is not maintained well, heavy foot traffic will cause your roof to degrade. A regular roof inspection will keep your roof clean and free from debris and will extend the lifespan of your roof.
Storm Damage
A storm is a devastating event and high winds and other weather events can cause severe damage to your roof. Most of the time, you will have to perform roof repairs and file insurance claims. Your roof must be inspected immediately after a storm to prevent roof damage caused by water infiltration.
When roofs are not properly designed, high winds can blow your roof away. Trees and other heavy debris can fall on your roof and may cause heavy damage. Storm damage may require emergency repairs which cost more. Regular roof inspections provide a great way to keep your roof in perfect shape! 
Leak Assessment
Leaks are one of the things that a certified roofer will look for when performing roof inspection and maintenance. Moisture may also be trapped and if left undetected, will cause severe damage to your roof and other structural components of your property.
Professional roofers can detect deteriorating components in your roofs such as rotting wood, mold, wet insulation, or corrosion. These are some of the benefits of regular roof inspection and maintenance. If you want to ensure that your roof is performing as it should, call us right away!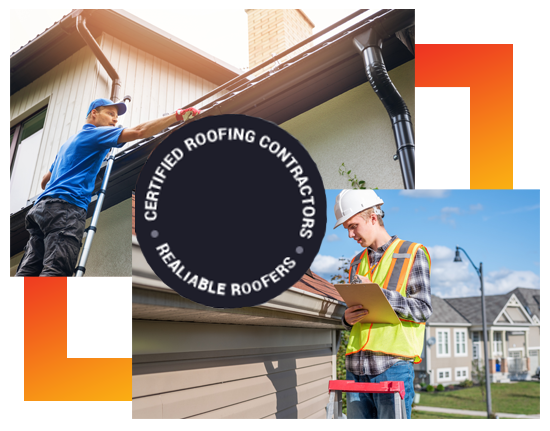 Benefits of Roof Inspection and Maintenance
Call Us For A Comprehensive Roof Inspection And Maintenance
Whether you need a roof inspection or roof maintenance, siding repair, we've got you covered! Call us today for a free roof inspection!